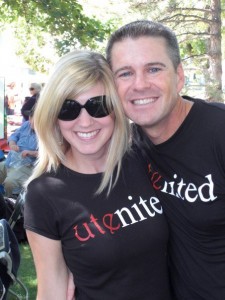 Utenited was founded in October of 2007 by three University of Utah students, under the direction of David and Gretchen Figge. These students would meet for a worship study break every Tuesday at 8:00pm in Seminar Room 1 of the Chase M. Petersen Heritage Center, on the University of Utah campus. This study break featured five minutes of Bible-based teaching by David, who would tell students about the God of the Bible in an unparalleled fashion of exuberance.
In January of 2008, Utenited moved to Room 2B of the Heritage Center to accommodate its rapid growth. And in May of 2008, Utenited's first missionary, Nicole Casper, moved to Utah from Bakersfield, California. (Utenited's second missionary and a close friend of Nicole's, Ashley Parnell, would follow Nicole's lead in January 2010.) As Utenited continued to grow, David and Gretchen felt it appropriate to continue a tradition they had started with a previous college group, and in December of 2008, Utenited had its first Christmas Formal — a night of delicious food and a ton of dancing, with all of it centered around the joy and the hope of Christmas.
In April of 2009, for various reasons, Utenited began to see fewer and fewer students wanting to be a part of its mission. This decline continued slowly but steadily through December of 2010, at which point many of the key people in Utenited approached David and Gretchen to tell them it was their time to transition out. So, David and Gretchen made plans to shut down Utenited slowly beginning in January of 2011.
The moves David and Gretchen were making didn't go unnoticed. In fact, it was quite alarming to some of Utenited's key members – people who still believed in the group and its mission of service to the University of Utah community. One of these key members, Spencer Young, approached David and Gretchen that January and told them that he would like to take Utenited and continue its mission of service to the University of Utah campus and the community. David and Gretchen were thrilled, and in February of that year they began to hand the directorship of Utenited over to Spencer.
In the meantime, Spencer began to talk with other key members of Utenited, and he found several people who still believed in Utenited and wanted to help keep it around. Together, they made plans for the 2011-12 school year that they had hoped would make Utenited an even bigger influence, both on and off campus.
However, due to a variety of circumstances and reasons, Utenited withdrew from the campus on September 27, 2011, and ceased all activity.  Unsure of how long this season of withdrawal will last, Utenited looks forward with hopeful hearts to the day when this season ends and Utenited once again returns to the University of Utah campus.